Are you feeling the pressure to throw an elaborate birthday party? Parties these days have gone to extremes. They seem AMAZING, but rather unrealistic for us 'real' moms. I want to teach you a trick that will impress everyone, and it won't take you hours of work. Give your kids that theme party they are wanting, but don't spend a fortune on a fancy cake. You CAN make it yourself, frosting isn't as tricky as it seems!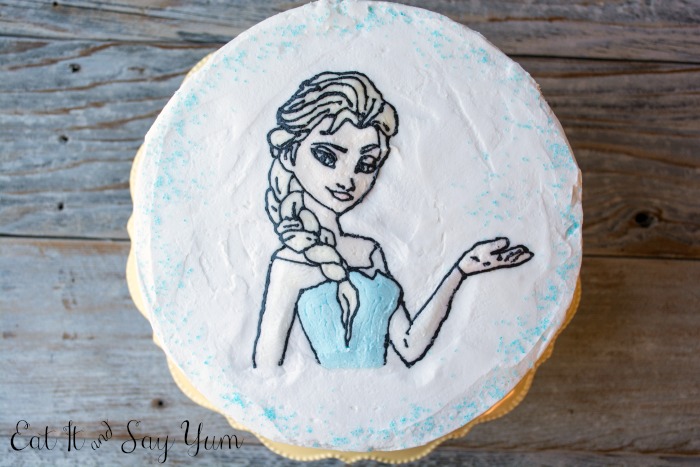 This cake decorating method allows you use any, simple, image that you want. I like to choose a page from a coloring book. But you could draw your own sketch, or have your kids draw one.
Using some piping bags and frosting tips, you too, can make a fantastic looking cake.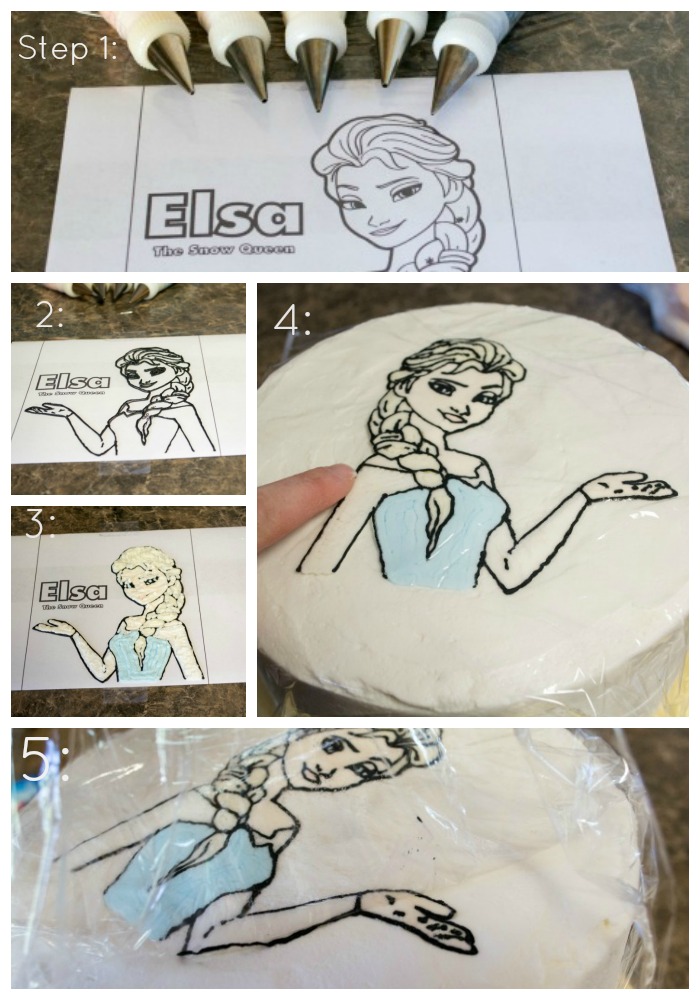 Begin with a cake. All frosted and ready to go, it could even be store bought. I used an 8 inch round cakes for this tutorial, but you can even use a cake in a 9×13 pan. Make it as easy as you want. Also, prep all your frosting colors for whatever picture you choose. I used blue, skin tone, white, blonde, black, and pink for the lips. Each color is in a piping bag and has a frosting tip. I use Wilton tips #1, 2, and 3.
Step 1: Tape your coloring page to your counter surface. Tape a piece of plastic wrap over the coloring sheet. The plastic wrap should be about twice as big as the coloring sheet, so you have plenty of room.
Step 2: Using black frosting, (or a different color of your choice) and Wilton tip #1, outline your image. Applying even pressure to the bag, trace over all the lines on your coloring page.
Step 3: Using the remaining colors, 'color' your image. Use the smallest tips (#1 and #2) for the most detailed areas. You can cover over the black lines, they will be on top when you put the image on the cake. Use a toothpick and Q-tips to carefully fix any mistakes. If need be you can always wipe the whole thing clean and start over.
Step 4: Once you have finished coloring your image with frosting, grab a friend, and each of you hold a corner of the plastic wrap. Remove the tape holding the plastic wrap down and pick up the plastic wrap, with your arms crossed. Keep the wrap tense so the frosting doesn't fold and touch it's self. Carefully uncross your arms so the frosting is on the bottom side of the plastic wrap. Center the image over your cake and lower down until it is resting where you want it. Using your pointer finger and a light touch press the frosting down onto the cake. You may need to do this several times.
Step 5: Gently peel the plastic wrap off the cake. If the frosting is sticking, you can lay the plastic wrap back down and press over that spot again. If the black lines refuse to come off, go back touch those up with your piping bag.
The finished product is something any child will love.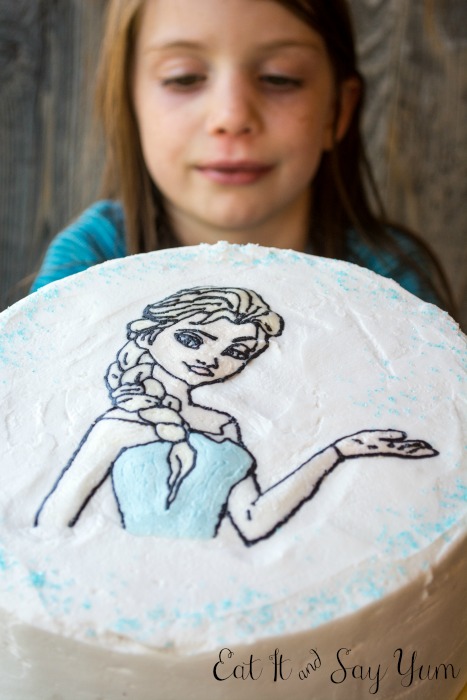 And everyone will think you spent lots of money, or lots of time getting this great of a look.
---
Article in partnership with:
Republished by Blog Post Promoter